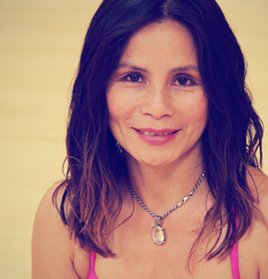 Nitya Hoa Tran is originally from Vietnam. Brought up in a strong Catholic family, she never did any sport or dance for the first twenty years of her life. In the last sixteen years, yoga and meditation has become her school and passion. With deep gratitude, she would like to share this ancient knowledge to her community.
-Certified 500 hour Kripalu Yoga Teacher.
-Certified Kripalu YogaDance.
-Certified K­8 YogaEd.
-Certifed Level 1 iRest YogaNidra.
-Certified 7 days Intensive Psychology of the Chakras Training.
-Completed Restorative Yoga Teacher Training -Successfully Completed The Express Training Thai Traditional Massage, Bankok, Thailand.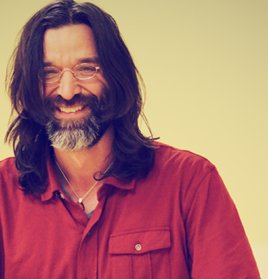 Omkara Kevin Wicks, Registered Yoga Teacher (RYT), completed his 200-hour teacher training at the ShivaShakti School of Yoga and Healing Arts in Rockland, Maine in 2011. He received the name Omkara from Srinivasan in a mantra initiation during his three month stay in the Bahamas Sivananda Ashram as a Karma Yogi. Omkara Kevin has also learned and practiced meditation at the Vipasana meditation center of Shelburne Mass.Since beginning his practice, Omkara Kevin has learned the importance of purification of mind, body and action. Those close to him noticed his growing sense of peace, and started asking him to teach them yoga.
Though he never planned to teach, Kevin is grateful to share the transforming power of a steady yoga practice with his students and fellow teachers.One way he does this is with Mantra and Kirtan, which he learned from ShivaShakti, and from his three month stay in the Sivananda ashram. Mantra has now become a part of Omkara's daily sadhana practice. He leads Kirtans and teaches mantras for individual practice Bhakti Yoga.At ShivaShakti, Omkara Kevin was also certified in the healing art of Nuad Bo-Rarn (Thai Bodywork).Omkara Kevin is always delving deeper into his studies and practices and has attended many workshops including Physical Therapist Joint Therapy, Herbalisim, AcroYoga, Defying Gravity inversions, Mudras, Assists, Ayurveda, Smart Sequencing with Ame Wren, Live Love Teach with Philip Urso, and more. He has also dabbled it the martial arts of Ju Jitsu, Shoulin Kempo, and Tai Chi.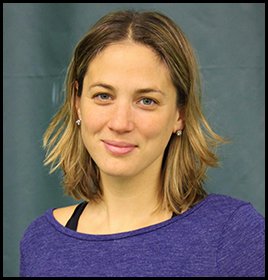 Jessie Chalmers is a dedicated and enthusiastic student and teacher of yoga. Her own practice began years ago and has supported her during times of stress, transition, and injury. She completed her Kripalu yoga certification in 2007 and since then has continued to study in the styles of Restorative, Vinyasa, and Yin. Jessie teaches with a heartfelt approach, encouraging her students to develop a deeper self-awareness of their physical body as well as an awareness and understanding of the mind/body connection.
Jessie specializes in teaching therapeutic yoga to those working with injuries or limitations and incorporates a healing element into each of her classes. Her classes are also accessible to students of all levels and abilities.
Kara studies yoga primarily under the teachings of Yogan and Michael Carroll and Paul Grilley. She draws from experience in the Yin, Iyengar, Ashtanga and Kripalu traditions, blending yoga teaching with the studies of Ayurvedic and Taoist Medicine. Her background in biology, environmental science and wilderness exploration strongly influence her teaching and interpretation of yoga. Kara began practicing yoga in 1998 and started teaching in 2001.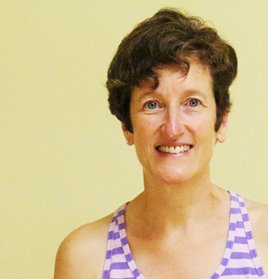 I have been working in the healing arts field since 1996, after experiencing profound relief from some long-term personal health issues through massage therapy and various types of energy work. My professional work is influenced by many teachers, some of whom I've met in person, others whose teachings have come to me through their students or their writings. I feel deeply blessed to be able to share what I have learned to help others be happy and healthy. I am a certified and state-licensed massage therapist, and certified polarity therapist and yoga teacher with over 1000 hours of certified training and many more hours of independent study.I am a graduate of the Polarity Realization Institute (now Spa Tech) in Ipswich, Massachusetts.
My primary yoga teacher is Jill Satterfield of Vajra Yoga in New York City and I am a certified Vajra Yoga teacher and Polarity Yoga teacher. I have a B.A. in Political Science from the University of Vermont, am a state-certified Language Arts teacher in grades 7-12, a writer and poet. As a teacher, I focus on awareness of the physical body, and on the heart-mind in the body, using visualization and meditation techniques. Physical alignment is also important, in order to open and strengthen the channels through which the vital life force flows, to calm the mind to sit in meditation, and to avoid injury. You do not have to be "flexible" to begin a yoga practice – all that is required is a desire to engage in the practice of inquiry and discovery.
Yoga has been at play in Leslie's life since she discovered it in college. She has travelled to India and strives to incorporate yoga in her life on a daily basis. She was finally able to take her teacher training at YogaWorks in New York City in 2007, and in 2012 received a certification in Restorative Yoga. With 14 studios on both coasts, the YogaWorks training combines the teachings of Iyengar, Desikachar and the lineage of Krishnamacharya. YogaWorks method focuses on intelligent, safe and sensible sequences using props to modify poses to accommodate all body types.
Since becoming certified Leslie has led a wide range of classes; from restaurant chefs and staff to high school students and elementary school teachers. A great gift that yoga bestows is knowing the importance of transitioning from the mat to our daily lives. Afterall, that's truly where the fruits of our practice are manifest.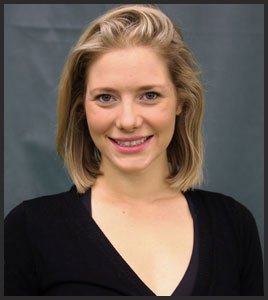 Hailing from NYC, Mae is excited to bring her upbeat, inspired energy to Maine's flourishing yoga community. Growing up in a family of yogis, Mae feels her life has been inspired by the East in many ways. Mae's affinity for yoga first began at 6yrs old at an ashram in Woodstock, NY where she picked up an asana book and began copying complex poses to the bewilderment of onlookers. With a growing interest in holistic health and preventative medicine and a keen eye for movement analysis, she decided to take on yoga as a lifestyle and career. Mae completed her 200hr Vinyasa training in 2011 at Atmananda in Manhattan, followed by her 500hr Hatha training in 2014, which she completed while traveling South India.
Mae's class will lead you on a yogic voyage through controlled breathwork, mindful meditation, innovative sun salutations and creatively sequenced standing poses, arm balances, backbends, and inversions. Mae's presence welcomes both novice and advanced practitioners and invites students to express questions or concerns regarding their continued practice. With immense gratitude for her gurus on and off the mat, she would like to share this practice with her students.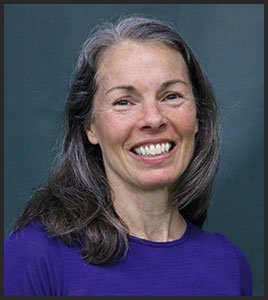 Bio info coming soon!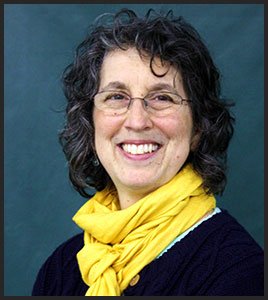 Robin has been an avid mover ever since her early years.  She has been studying qigong (chi gong) and tai chi and recently became certified as a Practice Leader with Dr. Roger Jahnke and the IIQTC—the Institute for Integral Qigong and Tai chi in Santa Barbara, California. Qigong and Tai chi are movement forms that come from China but are now practiced worldwide for their many life-enhancing benefits.  In Robin's classes you will learn to balance your energy, generate more vitality, and activate the "healer within." We work with four baskets of practice—gentle movement, breath practice, self‐applied massage, and meditation.  Qigong classes are for everyone regardless of ability or prior experience. Robin lives in Topsham and is known in the area for her vibrant collage landscapes and for her work as an art teacher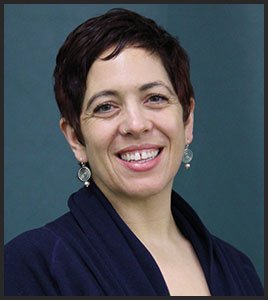 Sara grew up in midcoast Maine, and has spent most of her life here. She is the mother of two small, energetic boys, and a son and daughter nearly grown.
She is a 200 hour registered yoga teacher (RYT) with the Yoga Alliance and graduated from Conquering Lion Yoga Teacher Training in March of 2013. She is also a certified Children's Yoga Teacher ( Well Heart Yoga, May 2014), and is qualified to lead Yoga Nidra, deep guided relaxation (Shiva Shakti Yoga School, October 2014), and Yin Yoga (May 2015). Additionally Sara is a Kundalini Reiki Master (October 2011), and energy healer. Her classes are welcoming for all experiences and levels.
Why She Teaches
"Yoga brings me peace, and a certain feeling of true contentment, which I haven't found elsewhere. It's a connection with my deeper, quieter self, which I feel most clearly from the various practices of yoga. I don't do most of those fancy poses you see on the internet, and I believe yoga is about so much more than that (though I would love to learn some of those one arm upside down balances! Maybe next year..). For me, the the stretching and asana (postures) of yoga are about quieting the mind, becoming more comfortable with the moment of now, accepting the body as it is, and honoring it for all it does. The body just wants to be appreciated, and asana brings energy, blood flow, and prana (life force) to every cell in the body.  My classes are welcoming of all experience levels."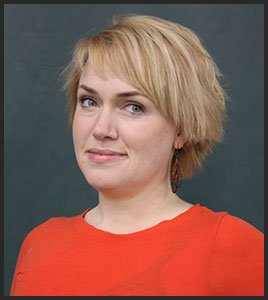 Jessy Barker is Maine native currently living in Brunswick. Jessy recieved her 200hr Yoga Teacher training through Panacea School of Massage and Wellness. She is currently training to achieve her 300hr through ShivaShakti in Rockland. Jessy has experience teaching many different styles of Yoga from Yin, to Vinyasa Flow, even Children's Yoga. Jessy is excited to serve the Maine Pines Yoga community.
Our Subs
My yoga practice began 7 years ago, and it has since become a central part of my life. I completed my yoga teacher training at the Joschi Yoga Institute in New York City, where I learned a creative, energetic style of Vinyasa Flow that combined yoga with the musical elements of dance.
In my personal practice, my intention is to continue to explore the many connections between yoga and everyday life, while deepening my awareness of the body in motion and in stillness. In my teaching my intention is to share this exploration in an environment that is creative, supportive, and safe.