1-2-3 PROGRAM
1-2-3 is geared toward the beginning player or player returning to tennis. It includes 3 weeks of lessons designed to instruct the player in all aspects of the game. For the month-long program, it includes a court fee membership with free weekend court time, a complimentary orange ball triples class, a social mixer, and free fitness membership during the month. Players can purchase a discounted ball machine pass for $30. 1-2-3 will meet the beginning of the first week of the month.
COST: $55
TENNIS SESSIONS:
Tue 9am, Wed 6pm, Sat 10am
GRADUATE PROGRAM
The graduate program is the next step for a tennis player after the 1-2-3 program. It includes 4 weeks of lessons as well as free fitness and yoga memberships. Our pros will help connect you with other players and help you find the connections you want on the court. Graduate members will be invited to a complimentary social mixer and receive a coupon for 50% off a 1-hour private lesson. This 3-month program is $189. The graduate program begins on the first of the month and runs through the end of the month. It is ongoing throughout the year.
TENNIS SESSIONS: Tue 10am, Wed 7pm, Sat 10am
CARDIO TENNIS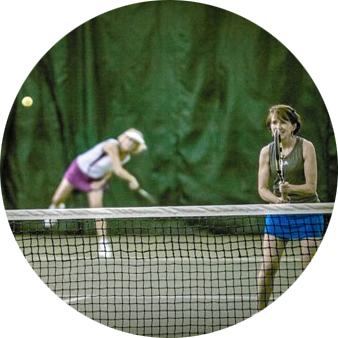 High intensity cardio workout. This class features drills to give players of all abilities an ultimate, high energy workout while hitting a lot of balls.
Please register for each clinic online.
Weekly sign ups.
THURSDAYS (Open to all levels)
9:00AM-10:30AM
SATURDAYS (Open to all levels)
9:00AM-10:00AM
COST
Members: $12 for 1 hour, $16 for 1 1/2 hours
Non-Members: $22 for 1 hour, $28 for 1 1/2 hours
TRIPLES CLINIC
Come join this exciting and fast-paced game!  It gives you an opportunity to work on many aspects of your game while having fun on the court in a team format!
Please register for each clinic online.
Weekly sign ups.
TUESDAYS: 6:00-7:00PM
SUNDAYS: 9:30-11:00AM
COST
Members: $12 for 1 hour, $16 for 1 1/2 hours
Non-Members: $22 for 1 hour, $28 for 1 1/2 hours