Maine Pines Junior Programs include Preschool, Red Ball, Orange Ball, Junior Development, and High Performance Clinics. All players will be grouped by their ability in order to obtain the best instruction possible. Each participant in these programs will vary in ability, however, the excitement and commitment to improve are the same. We emphasize positive attitudes, sportsmanship, and effort.
10 & UNDER TENNIS PROGRAMS
PRESCHOOL TENNIS (Ages 3 ½-5)
Preschool Tennis is a great way for little players to be introduced to the game for tennis. Players will learn hand eye coordination and the basic tennis strokes, with a goal being them learning to rally on their own.
COST: $55/4 week session (punchcard system)
---
RED BALL TENNIS (Ages 4-7)
Uses USTA approved red ball equipment. Teaches young players hand eye coordination, tennis footwork and the basic skills and strategies of the game. Players will have fun while learning to play in a game based format. Free junior racquet with purchase of the 3-month option.
Meets Mondays and Wednesdays from 5:15-6pm
COST: 1 day/week = $40, 2 days/week = $65, 3 months/1 day = $110, 3 months/2 days = $180
---
ORANGE BALL TENNIS (Ages 8-11)
Uses painted 60' courts and orange or green dot balls. Teaches tennis skills and strategies through game based drills, as well as footwork patterns and coordination. Players will have fun while learning to play, enjoying the game right from the start.
Meets Monday and Wednesdays from 5-6pm
COST: 1 day/week = $40, 2 days/week = $65, 3 months/1 day = $110, 3 months/2 days = $180
Pay by Electronic Funds Transfer
Pay in Full
---
TEEN PROGRAMS
JUNIOR DEVELOPMENT PROGRAM (JDP) (Ages 11-18)
JDP is a program for players including junior high and high school players of all levels. JDP meets three times a week and offers a combination of drill, instruction, and play. Tuesdays and Thursdays will be for drill and instruction; Fridays will be for match play with coaching. Participation in the JDP program includes a Junior Membership and discounts on tournaments, leagues, and individual instruction, as well as junior club tournaments. This program is perfect for the junior player who aspires to play high school or college tennis. Age exceptions can be made depending upon ability.
Member/Participant can cancel up to 3 months for other sports and return with no processing fee only during the school year. Electronic Funds Transfer (EFT): If you cancel for the summer a processing fee of $60.00 will be applied for renewal of membership.
Meets Tuesdays and Thursdays
High School 3:00-4:00pm / Middle School 4:00-5:00pm
MONTHLY COST:
With Adult Family Member: $69/month (EFT only)
Without Adult Family Member: $79/month
Over the Counter (No EFT): $99/month
---
HIGH PERFORMANCE TENNIS ACADEMY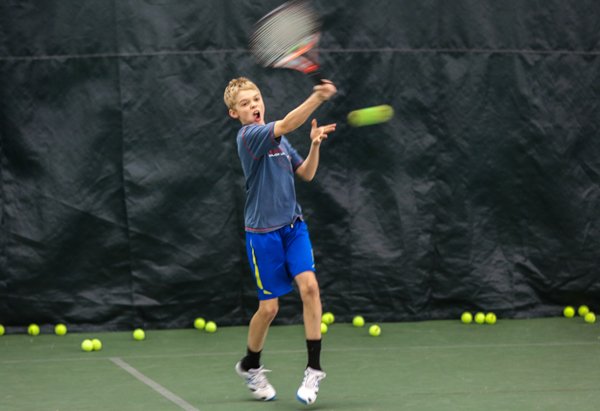 The High Performance Training Clinic is geared toward the high level tournament player and gives them competitive opportunities that motivate and encourage the player to develop to their highest competitive level. Players will be grouped by ability to provide the best possible challenge and means of improving. This clinic will instill percentage play through drills, fun competitive progressions, and sport science.
Clinic days are Mondays and/or Wednesdays 3:30-5:00.
High Performance Players can add Friday match play for $25/month.
MONTHLY COST:
$100  by EFT for one day/month (Mon or Wed).
$200  by EFT for both days/month (Mon & Wed).
Non-EFT add $20
---
JUNIOR TOURNAMENTS
Maine Pines sponsors UTR events for Juniors.  Head to https://www.universaltennis.com/ and join the Maine Pines Universal Tennis Network to be informed of all upcoming tournaments.