What to expect:
Expert coaching from fitness industry professionals
Complete meal planning
24/7 access to the program
The latest "Habit Change" software to keep you on track
A workout routine you can do anywhere – Home or Gym
Assurance that comes from over 45,000 success stories!
Get in the best shape of your life, for the rest of your life — with help from our Certified Precision Nutrition Coach Jameson Skillings.
It's time to take control of your health and get the body you've always wanted.
Starting TODAY, we're accepting a small number of new coaching clients to begin coaching on Monday, August 7th, 2017. Join the free presale list now — you'll get to enroll early and save 80% off the regular cost.
What you can expect from PN Coaching:
12 months of personal nutrition coaching to get you into the best shape of your life.
Get the body you've always wanted.
Lose weight, build strength, have more energy. Whatever your goals, we'll help you get there. By the end of 12 months you'll be in better shape than you thought possible.
Get control of your health, without overhauling your life.
No more weird diets or time-consuming workouts. You have enough to worry about, and you're already strapped for time. Let us sweat the details while you breathe easily and focus only on one step at a time.
Never diet again.
Instead of another complex diet program to follow, get ready to have one less thing to worry about. We'll sweat the details so you can breathe easily and focus only on the next step in front of you.
Small practices. Massive results.
Jameson will break your complex nutritional goals into small, strategic daily practices that add up to massive body transformation. You'll develop healthy habits that become second nature and last a lifetime.
Nutrition and fitness that fit into your life.
We'll start with you — your life, needs, and goals. Then we'll develop a personalized plan to help you eat, move, and live better, all within the context of your real, everyday life.
Guidance and support from a world-class coaching program.
You'll work with a coach who will give you accountability, direction, and support every step of the way. He'll help you stay consistent, no matter what life throws at you.
Backed by science. Proven with real people.
Our coaching methods have been tested and proven with nearly 50,000 clients to date. We're constantly tweaking and improving our program based on the latest in nutrition, exercise, and psychology research.
Results 100% guaranteed.
We'll coach you for an entire year. And just like the thousands of clients we've worked with, you'll get in the best shape of your life — or it's free.
The lowest price ever.
Precision Nutrition's mission is research-driven, life-changing nutrition coaching for everyone. We've partnered with Jameson Skillings to significantly reduce our price to make it more affordable for people who are ready to get the body they deserve. Maine Pines has an exclusive 80% off with ProCoach Workouts included free (a $70/month value).
DON'T DELAY! JOIN THE PROCOACH PRESALE LIST TODAY!
CALL (207) 729-8433

Certified PN Coaching changes lives. Here are just a few people touched by nutrition coaching through ProCoach.
ProCoach Success Stories:
Over the past 15 years, the Precision Nutrition coaching program has helped nearly 50,000 clients lose 900,000 pounds of body fat and get in the best shape of their lives. And we've awarded $1 million in prize money to our top clients. This year we're giving away $20,000 in prizes to new clients for 2017 and 2018.
Lasting body transformations like these don't come from dieting or hardcore fitness programs. They come from proven, research-driven methods that continue to work with tens of thousands of men of all shapes, sizes, and lifestyles. And they happen when you have a world-class coach in your corner to keep you on track and guide you step-by-step toward total body transformation.
ProCoach Workouts Video:
Transform your body forever.
You tell us what you want to do. We'll help you do it. First, your coach will learn about your lifestyle, needs, and specific goals. Then, over the course of the program, we'll give you everything you need to look, feel, and perform better than you thought possible. Guaranteed.
"Precision Nutrition Coaching has been an investment in myself on a long-term, consistent basis. That was a huge change from what I used to do — trying to get into shape on a short-term basis where I would just get burned out and go back to my old habits. And coaching really gave me a person who was looking out for me and helped me stay consistent."
— Tim, 36, lost 100 lbs, ProCoach client
"This is like no other program you've tried or heard about. It leads you and gives you the tools and support to achieve the results you want."
— Rich, ProCoach client
"I'm a whole new person. Precision Nutrition gave me all the tools and motivation to make it happen. I cannot stress enough how much it changes your life."
— Lindsey, ProCoach client
"I was a chronic yo-yo dieter always looking for an answer. Precision Nutrition is the first and only plan to ever help me in 40 years of dieting life. I am off all medicine and no longer have to use my CPAP machine. Precision Nutrition helped me win back my health."
— Cindy, 50, lost 70 lbs, ProCoach client
"I used to be an emotional eater. I never expected to become a person who could release my stress through exercise. I don't regret one day of this last year. It was exactly what I needed to get myself back on my feet and feel fulfilled again. Not just because I lost weight. But because I now have the confidence to feel like I'm worth it."
— Jill, 25, Lost 55 lbs, ProCoach client
"I love that I can wear a two-piece swimsuit. I love eating right and not wanting to kick myself for overeating unhealthy food. I love that I'm buying size 6 instead of 14. And I especially love running into people I haven't seen in a while and hearing 'Wow! You look great! And so much younger!'"
— Laurie, 56, lost 51 lbs, ProCoach client
Proven strategies to help you get (and keep) the body you want.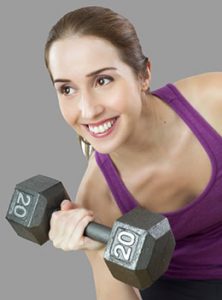 You've probably tried multiple diet and workout programs in the past. And you've concluded that they simply don't work in the long run.
Instead of the all-or-nothing approach, we use a sustainable, practice-based approach to build healthy habits into your life, one day at a time.
The result? You'll lose the weight (and inches) you haven't been able to shed for years. You'll build muscle, strength, and confidence. And you'll get into awesome shape, without other parts of your life taking a back seat.
Work with the best nutrition and lifestyle coaching program in the world.
Our coaching program is designed by the best nutritionists, strength coaches, counselors, researchers, and specialists in the field. They live and breathe this stuff every day, and they've dedicated their professional lives to helping people just like you get in the best shape of their lives.
Whatever obstacles arise, your coach will help you overcome them by modifying your program or offering new solutions. He's part nutrition expert, part scientist, part friend.
You'll be able to reach out to him at any time in the online coaching platform, with options to connect by phone, text, or video chat. He'll regularly review your progress, offer insights, and check in with you to provide support and guidance.
See exactly how PN Coaching works.
Every day, through our online coaching platform, you'll get a lesson, a workout, and a habit to practice. You'll get regular feedback from your coach, and you can reach out to him directly, anytime. Watch the video to see how the program works. 
How it works:
Give us one year. You'll get in the best shape of your life — or your money back.
DON'T DELAY! JOIN THE PROCOACH PRESALE LIST TODAY!
CALL (207) 729-8433
Lots of companies guarantee their products. We guarantee our services, too.
He'll coach you for the entire year. You'll get into the best shape of your life or it's free. Stick with him for 12 months — and if you're not happy we'll give you back every penny. What do we need from you? We need you to take the first step.
Final Note
Take one small step today toward getting into the best shape of your life — join the presale list.
Maybe it's been a while since you've been in shape, or felt energized throughout your entire day, or felt capable and confident enough to do what you truly want.
If you're ready to have the body you deserve and get in control of your health and fitness once and for all, Jameson is ready to help. You've tried doing it alone. Now try with someone who's ready to bring a commitment that's as serious as your own.
This is your limited opportunity to work with the best coaching program in the industry — to look, feel, and perform better than you thought possible.
If you're interested in potentially working with Jameson, take one small step today and sign up for the presale list — at no cost or obligation. He'll send you more information about the program in the coming weeks. Plus, you'll get big savings and early access to the program.
We hope to have the opportunity to help you transform your body and life forever.
The next step is up to you.
DON'T DELAY! JOIN THE PROCOACH PRESALE LIST TODAY!
CALL (207) 729-8433