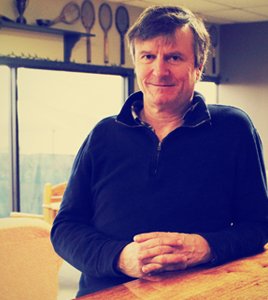 Rob started playing tennis at age 13 on the clay court his father built behind his house in the Bangor, Maine area. Much to his fathers chagrin because of the wear and tear on the natural clay surface, Rob played tennis baseball on the court with buddies until he finally got the tennis bug.
He spent much of his teen years on this court and playing at the local indoor club in Bangor where he really came to appreciate the value of a club in terms of recreation, fun and camaraderie. Rob well remembers the old 4-6 group where he played every Monday, Wednesday, and Friday during the time mentioned. A diverse group of men and women, consisting of business people, doctors, lawyers, college professors, and some other kids with skill played both competitively and for fun. Rob's high school did not have a team but he started all 4 years for his college playing as high as #1 doubles. Rob majored in business and economics in college. He taught tennis at the local recreation department, country club, and indoor club through out his high school and college years at UMAINE.
After a year with Merrill Lynch in Boston right after college, Rob went back to tennis teaching on Sanibel Island in Florida and continued teaching in various places such as Vermont, Massachusetts and Virginia. Each time he landed a teaching job, Rob thought this would be his last tennis job before he got a "real" job. That never happened. Rob landed a job in the Washington DC area working for a sports management firm where he sold tennis management services to clubs all over the country in the mid 80's. Moving back to Maine in 1987 after deciding life inside the DC beltway was not for him, Rob was the tennis director for Maine Pines (then called Merrymeeting Health & Fitness Center though at that time the club only had tennis) for ten years. Rob was one of 3 Pro's that started the USTA Leagues Program in Maine back in 1988, and with Lisa Gilbride started the very successful summer camps business at Bowdoin.  Rob very much enjoyed coaching the Brunswick High Boys team where he led them to four regional and three state titles over an 11 year period.  Rob then equally enjoyed  coaching the Brunswick High Girls team for 8 years, capturing four regional titles and two state titles.
Rob left the club for 6 months in October of 1997 to negotiate and buy the club where he signed "the deal" on April Fools Day of 1998. Since that time, he has been named Facility Manager of the year twice, the club was New England Tennis Club of the year in 2007, and the club has been considered one of the top 50 Tennis Welcome Centers in the country since 2006. Rob was able to get help from EfficiencyMaine in 2006 to add a very reflective internal ceiling system that has cut electric and oil use dramatically while improving the over all quality of lighting for tennis play.  In 2016, Rob again with help from EfficiencyMaine, will be adding all LED lighting including tennis courts, aerobics studio, lobby, outdoor lighting, etc. to reduce electricity demand by close to 65%.
Maine Pines has under Rob's ownership developed into a quality fitness center to go along with the very successful tennis division. The areas largest aerobics studio, along with fully equipped cardio and strength training rooms have added much to the club. The Pine Tree Studio was added for Yoga in 2008 and the Spinning/Pilates room was recently added along with the Mid Coast Therapy Center.
Rob has two daughters – Sarah and Lydia. Rob's passions are spending time with his family, skiing and Sugarloaf (Loafer since 61), and most outdoor activities. Rob still manages to mix in tennis once or twice a week.
Email Rob: [email protected]