Pickleball 2022 Indoor Season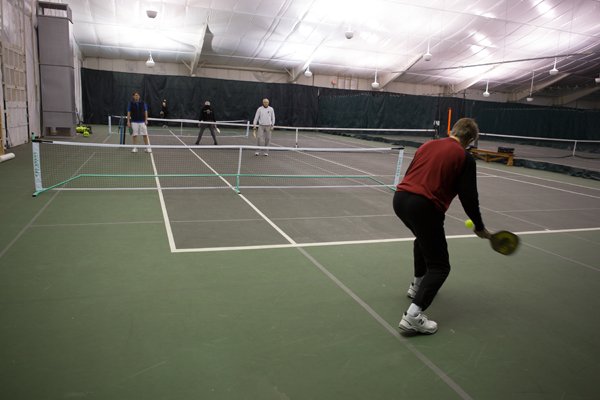 Pickleball at Maine Pines!  Try one of the fastest growing sports in America! Pickleball is friendly on your knees, backs and shoulders, and is a very easy sport to pick up whether you have a racquet sports background or not. It is fun, fast paced, good exercise, and social. Try it today!
We have 3 official courts lined out on tennis court #6 and the nets can be set in place in seconds.
Pickleball is included in all membership types (except Insurance based memberships and Senior Reduced Memberships)

No additional fees for play (Excluding programming/Instruction)
Use of Cardio and Weight Equipment
Access to all fitness/yoga classes
Pro Shop and programming/instruction discounts
Bookings access for court reservations
Check website or call for rates (207-729-8433)
Pickleball Guest Fees:

Singles $5 per hour
Doubles $5 per hour
Pickleball 1-2-3:
Pickleball 1-2-3 is geared toward the beginning player. It includes 3 weeks of lessons designed to instruct the player in all aspects of the game. For the month-long program, it includes a court fee membership with free Pickleball court time and free fitness membership during the month. Equipment is provided.
Cost: $55
Session times: Fridays 12-1pm.
Pickleball Triples (new!)
Come join this exciting and fast-paced game! It gives you an opportunity to work on many aspects of your game while having fun on the court in a team format!
Session Times: Wednesday 7-8:30pm, Saturday 1:00-2:30.
Cost: Members: $5.00, Non-Members: $10.00
Pickleball Strokes & Strategy
Cardio Pickleball
Advanced Pickleball 3.5+

Private Lessons:
Learn the game from our certified Pickleball pros. Private lessons are available upon request
Contract Times
Book a Pickleball court for the season at a set time each week.