Pickleball Times
Pickleball times available upon request for groups of 4 or more.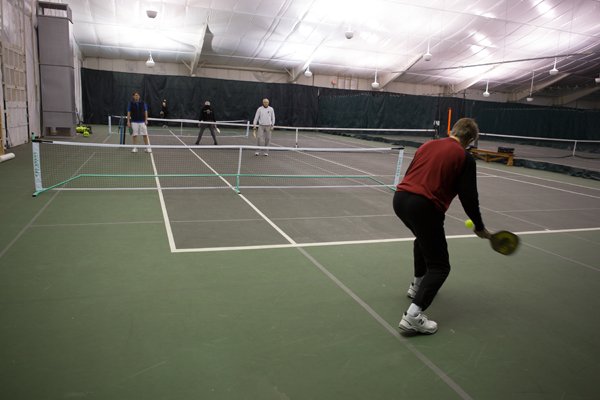 Pickleball at Maine Pines!  Try one of the fastest growing sports in America!  Pickleball is friendlier on your knees, backs and shoulders than Tennis, and is a very easy sport to pick up whether you have a racquet sports background or not.  It is fun, fast paced, good exercise, and very social.  Try it!
We have 4 official courts lined out on tennis court #6 and the nets can be set in place in seconds.
DROP IN TIMES:
Courts can be booked between

12 PM – 3 PM

Monday

through

Friday

, and weekend times available from

12 PM

and later.  Courts are not available when a tennis tournament or league may be happening. 
COST: $5 per play, or free if you have a Maine Pines fitness or tennis membership.
Adult Pickleball 123 Clinic: Join us for a 3-week session to learn the fundamental skills of pickleball.  Participants will learn proper techniques for strokes, as well as court positioning and rules.
Times: Tues. 1pm, Fri. noon, Sat. 8am.
Cost: $55
Adult Pickleball Graduate Program: This intermediate 3-month program will help players further knowledge of pickleball strokes, positioning, strategy, and match play. Four clinics are included.
Times: Tues 2pm, Fri 1pm, Sat 11am.
Cost: $189
Junior Pickleball Clinic: This introductory junior pickleball clinic will teach kids ages 11-18 the fundamentals of the sport in a month-long clinic.
Time: Sat 12pm.
Cost: $40/4-week session
Open Pickleball Times: Open pickleball play will be offered Tuesday's 9am-12pm & 5pm-9pm, Thursday's 9am-12pm, Friday's 5-7pm, Sunday's 10am-12pm
Pickleball Ladder: Sign up for our Pickleball ladder! Play time is set up between the picklers, and scores input online.  Sign up at the front desk.
Cost: $15 + any court fees.
Pickleball Lessons: Join our certified coaches for skills and strategy development.
See brochure for pricing. 
Pickleball Events: Mix and mingle at social events or go all in with a pickleball tournament. Watch the Maine Pines calendar and Facebook page for details.