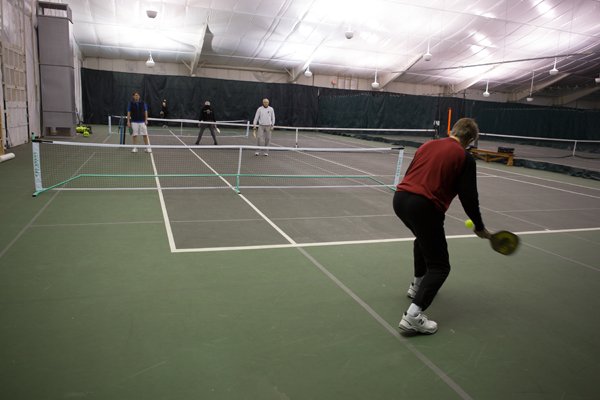 Pickleball at Maine Pines!  Try one of the fastest growing sports in America! Pickleball is friendly on your knees, backs and shoulders, and is a very easy sport to pick up whether you have a racquet sports background or not. It is fun, fast paced, good exercise, and social. Try it today!
We have 3 official courts lined out on tennis court #6 and the nets can be set in place in seconds.
Pickleball Membership includes:
No additional fees for play (Excluding programming/Instruction)
Pickleball
Fitness
Doubles $5 per hour
Pickleball 1-2-3:
Pickleball 1-2-3 is geared toward the beginning player. It includes 3 weeks of lessons designed to instruct the player in all aspects of the game. For the month-long program, it includes a court fee membership with free Pickleball court time and free fitness membership during the month. Equipment is provided.
Cost: $55
Session times: Fridays 12-1pm (11am-12pm starting in July).
Pickleball Triples:
Come join this exciting and fast-paced game! It gives you an opportunity to work on many aspects of your game while having fun on the court in a team format!
Session Times: Wednesday 7-8:30pm
Cost: Members: $8.00, Non-Members: $12.00
Private Lessons:
Learn the game from our certified Pickleball pros. Private lessons are available upon request