Pickleball 2020-21 Indoor Season
Pickleball times available upon request for groups of 4 or more.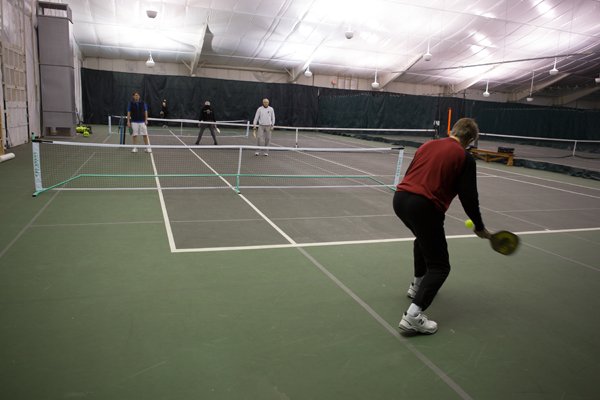 Pickleball at Maine Pines!  Try one of the fastest growing sports in America!  Pickleball is friendly on your knees, backs and shoulders, and is a very easy sport to pick up whether you have a racquet sports background or not.  It is fun, fast paced, good exercise, and social.  Try it today!
We have 4 official courts lined out on tennis court #6 and the nets can be set in place in seconds.
Pickleball Membership:
All memberships include Pickleball
No additional fees for play (Excluding programming/Instruction)
Use of Cardio and Weight Equipment
Access to all fitness/yoga classes
Pro Shop and programming/instruction discounts
Bookings access for court reservations
Check website or call for rates (207-729-8433)
Pickleball Guest Fee: ($5)
Good for 2 hours use
Exception is Sunday drop in (3 hours)
Pickleball 1-2-3
Learn to play programs
7pm to 8pm, Tuesdays
11:30am to 12:30pm, Fridays
Racquets provided
Thursday Drop In: (Starts November 5)
3pm to 5pm
12 people Max (Sign up in advance)
3.5 level and above
$5 or membership
Saturday Drop In: (Starts November 7)
2:00 – Close
12 Max (sign up in advance) 
3.0 and above $5 or membership  
Sunday Drop In: (Starts November 1)
11am – 2pm
12 Max (sign up in advance)
3.5 and above
$5 or membership
PickTrip
Pickleball Triples – fun, fast-moving game
7pm to 8:30pm, Wednesdays
11am to 12:30pm, Saturdays
Members $5
Non-members $10
Private lessons and Group clinics
Available upon request
Certified Pickleball Professionals
Contract Times
Book a pickleball court for the season at a set time each week.